Outdoor Events Cooling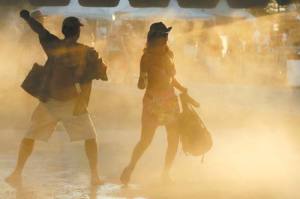 Events on hot days can still be nice offering solutions that reduce the temperature outdoors.
The water misting systems reduce Mist & Fog room temperature in a completely natural way avoiding the heat prevents the audience to fully enjoy the event by the fresh air and comfort the best advertising medium.
Availability of a wide range of products and value-added advertising media.
Fans nebulizers autonomous and mobile advertising.

Posts with refreshing mist of water.

Inflatable with water sprays.

.

Customized products with creative solutions adaptable to any project.
The coolness and comfort provided by this water mist system linked to the ability to draw attention make the Mist & Fog spray systems contribute to recognition in any event that takes place in an open environment.
Brand promotion and use of these products as support, increase advertising impact.