Water fogging and mist landscaping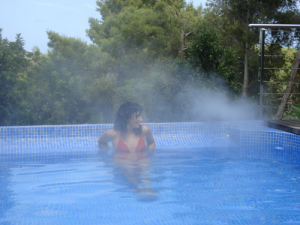 The water mist systems Mist & Fog are the perfect solution and a unique method to transform any landscape project in a beautiful tropical setting getting incredible visual effects through the creation fresh and decorative natural mists mists.
Operation:
The micro fine mist of water droplets in the atmosphere generates colorful decorative effects of fog and mist.
The Mist & Fog system opens up a huge range of possibilities in landscaping of private and public gardens. The decorative mist brings movement and dynamic landscapes creating a fresh, pleasant and very relaxing environment.
System Benefits:
Decorate and enhances the beauty of any landscape project transforming it into a beautiful tropical setting.

Refreshes the environment through the creative use of fog.

Commercial, residential, industrial and agricultural use.

Additional supplement irrigation by increasing the ambient humidity of the environment.