Microclimate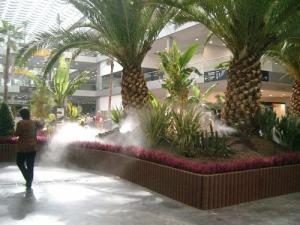 Water mist systems Mist & Fog are the perfect solution and a unique method to create a cool microclimate by spraying a simple, natural and ecological way of solving environmental problems resulting heat.
Operation principle of adiabatic cooling:
The micro fine mist water droplets in the atmosphere occurs by evaporation a drop in air temperature and an increase in the relative humidity level thereof.
Benefits of microclimate system:
Reduction in room temperature to 12 ° C

Refreshes the environment and clean the air of impurities.

Minimum consumption of water and energy.

Repels flying insects.